The 2022 Iowa Chinese Teaching and Research Symposium was held at the University of Iowa on April 23rd, 2022. It was organized by the Chinese program at the Department of Asian and Slavic Languages and Literature and sponsored by the Center for Asian and Pacific Studies. The symposium provided a platform for Iowa Chinese educators to exchange their Chinese teaching and research perspectives and products as well as to facilitate academic dialogue between secondary and college educators in the State of Iowa.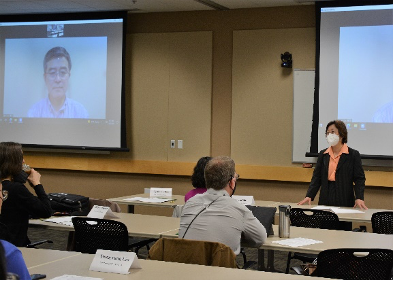 Chinese educators from five Iowa universities/colleges and four Iowa high schools attended the event either in person or via zoom meeting. The symposium featured a keynote speech titled "Is synthesized speech ready for CSL learning and instruction?" by Professor Jun Da (Middle Tennessee State University), three research panels, two professional development workshops, and three teaching method showcases. The participants had open exchanges on Chinese as second language education.  
The participants highly welcomed the event. The post-symposium survey showed that all participants hope that UI continues offering the symposium in the future. They commented that the symposium was "very well organized!"; they "really enjoyed it and have learned a lot!"; and they "appreciate meeting other Chinese educators in Iowa!"